Fishing trips in Bergen with Bergen Fjordtours
Bergen Fjordtours offers fishing trips in Bergen and along the Norwegian west coast.
Bergen is located on the Norwegian west coast in the depth of a fjord, and has and rich history of fishery stretching over a thousand years back. Situated at the very beginning of the fjord, the open sea is reached through the city's surrounding network of fjords. They all have in common being deep and long, and having a rich and varied fjord landscape. This is what makes the western coast of Norway a highly popular area for fishing tourism and sailing, and for tourism in general. For tourists, fishing along the Norwegian west coast is an exotic experience you will not find many places. Fishing in these areas is therefore an obligatory part of visiting Norway and Bergen.
With Bergen Fjordtours you have the opportunity to experience deep water fishing using sophisticated bait in all the surrounding fjords of Bergen. Usually a heavy hook with smaller hooks attacked to the cord is used to maximize the likelihood of catching a variety of different kinds of fish. The boat Weller is especially well suited for this kind of trip because of its ability to stay stable on the water in any kind of weather. When sailing along the fjords, bad weather is rarely an issue, as the fjords are well protected from wind under the tall mountains. The catch can easily be filleted on board and be brought along. The fish is usually caught at about 40 – 110 meter below sea level. The advanced fisher will reach fish at 200 meters and below.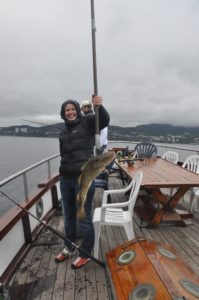 The closest spot for deep water fishing is about 20 minutes with boat from the port of Bergen. Further to the north or to the west you will find a number of great spots. The closest location to do some serious open sea deep water fishing is 16 nautical miles through the closest outer part of the fjord. With the fjord cruise Weller, this trip takes about 2 hours through three separate fjords.
On the fish trips along the Norwegian west coast, usually combined with fjord cruising, you can prepare and enjoy the catch on board with suited side dishes. The most popular dish to prepare is the delicious and unique homemade fish soup "a la Bergen". Many of our customers come back to us several times just to enjoy this tasty soup. Other exquisite dishes can also be prepared, and what makes it unique is the fact that the fish does not become any fresher than this. This is one of the reasons why this is the highlight of the trip.
Please send us a request, and we will be happy to customize a trip suiting the needs and preferences to you and your group at a fixed price. Weller is also very child friendly because of its high safety standards and comfort.